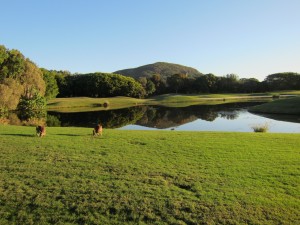 G'Day mates!  This week my business travels took me to a new country and continent – Sunshine Coast, Australia!  We stayed at a golf/beach resort about two hours north of Brisbane and it was beautiful!  The resort consists of little cabins scattered about so it was an interesting mix of camping-like nature, golf and the beach.  The birds there were crazy!  My first morning I woke up and ran to the window excited to see my first monkey…thinking I had no idea there were monkeys in Australia…and found a small bird laughing like a crazy ape.  I gave a training session each morning I was there and then took part of each afternoon to accomplish my primary Australia goal…..KANGROO HUNTING!!! (not actually hunting….more of finding….one of my colleagues got very confused by this statement).  My first outing proved successful as I found three grazing on the 9th hole.  I have no idea if they are wallabys or kangaroos….and never really got full clarification on this, but apparently you're supposed to be able to tell by size.  They were adorable and very content to keep eating and back scratching while I took their picture….I think they had been through this before.
| | |
| --- | --- |
| | |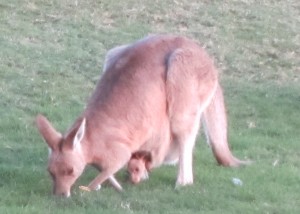 After playing papparazzi, I left them alone and went out to the beach which was beautiful!  Talk about pristine.  On my way back to my room I saw the kangaroos again, except they were now joined my more friends including a mom with a joey in her pouch!!  The highlight was when the boxing match began between three of them – hilarious! Although upon later watching the clips, I have decided that kangaroos/wallabys actually look like giant rats. But cute ones! (Be sure and watch my favorite part at 1:19!  Also, there was an American family watching with me…that's who is providing the intelligent commentary on the action).
The last morning of my stay I got up at 6am to walk to the beach and watch the sunrise. Definitely worth the effort as it was beautiful! Overall, Australia is like a country of California. Beach, surfing, tan and fit people, laid back culture…the one disappointment of the trip is that I discovered I was staying about 30 miles away from Steve Irwin's Zoo but I didn't get a chance to visit. Growing up my family and I loved watching the Crocodile Hunter and I've heard his zoo is amazing. I almost did get an extended stay as the ash cloud from the Chilean volcano closed the Melbourne and Sydney airports….I was already planning to make a tshirt "I Got Stranded By the Last 2 Ash Clouds" that I would wear proudly, but alas, the Brisbane airport stayed open and I journeyed the 8 hours home.
Fighting Wallabies

Miles Flown (Melissa)

406,530

Times Served Sea Cucumber

4