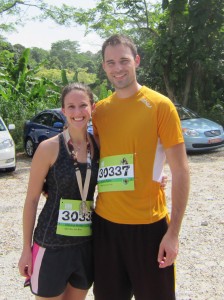 I have come to peace with the fact that I don't like running.  I have found dozens of other ways (what I would consider immensely more enjoyable ways) to exercise and be active.  However, despite my better judgement I occasionally abandon this logical frame of mind.  This happened not-so-coincidentally during Melissa's training for her half-marathon last year back in Saint Louis and more recently for the Zoo-Night Safari 6km run.
I have heard that humans actually evolved to be good at long-distance running, to track prey over the course of an extended hunt. It should be pointed out that since then the human population has diversified. Some, like those Europeans where my genetic material comes from – decided to abandon running, opting to gain the propensity for heart-attacks and being pulled around by beasts of burden. It is also true that I could have obtained the equivalent of a mammoth or wildebeest without needing to go through this run.  Nonetheless, there we were at the starting line.
And when I say starting line, I should really say starting queue.  The joke is that Singaporeans love to queue.  The beginning of the race proceeded to wind back and forth for a good quarter of a mile, including going through the turnstiles into the night safari, before it spread out enough to make our way through the pack.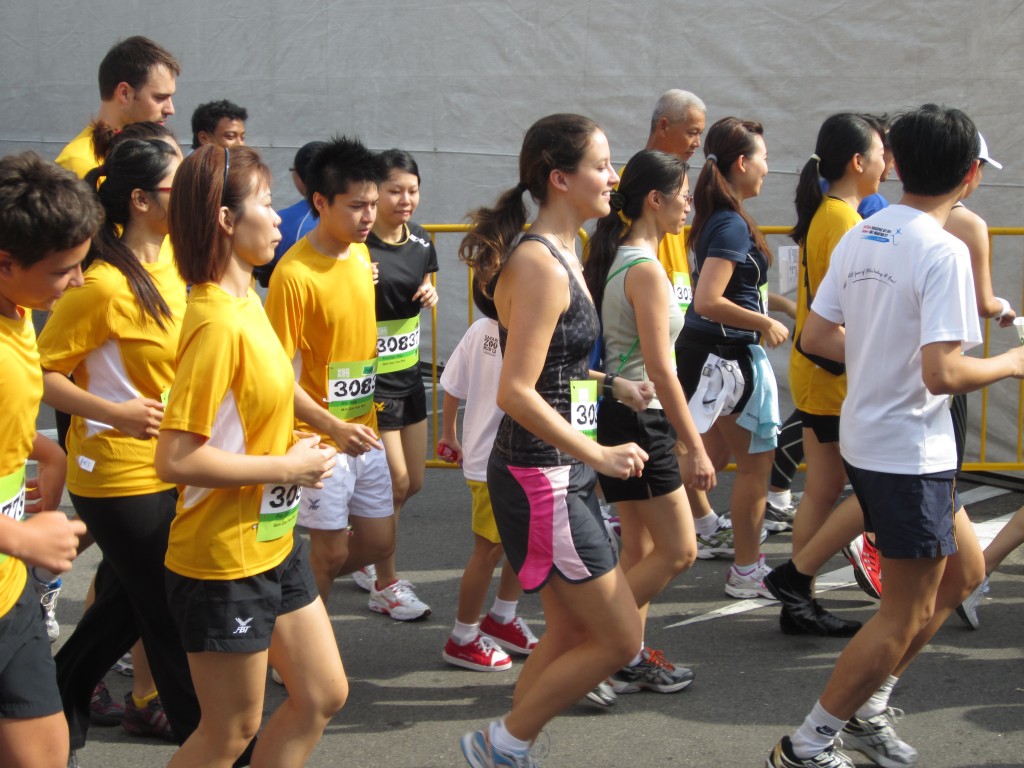 The run was a 6km route that took us through the night safari and then the zoo. I thought, great idea! A perfect way to check out the zoo (we had been to the night safari before). I have to attribute the fact that I finished this race to Melissa. I have determined the proper analogy for Melissa is a fuzzy bowling ball (I'm picturing a pink/purple boa wrapped around a bowling ball like a ball of yarn). She is a core of determination, coated with a heavy laminate of enthusiasm.  My running strategy (if you can call it that) is best described by the analogy of a teenage driver learning to use a manual transmission car. Needless to say there is usually a lot of starting and stopping. Melissa, however, is like a steamroller – the little engine that could – steadily going on, and on, and on.  Nothing stopped her – not the 6km, not the hills (or valleys!), not the tricky drinking-and-running-motion at the water stations, not even the tiger that escaped from his cage (ok, I actually didn't *see* the tiger, but it could have happened).  In any case, she plowed on ahead and I, attempting to maintain some semblance of manliness, tried to keep up.
About halfway through, as we entered the zoo, I began to run with my eyes mostly closed in some sort of zombie-like trance.  I really ought to mention that my preparation for this race was one 3km run along the quay about two weeks prior and swimming.  Swimming is an awesome workout, but it is still a slightly different workout than what one would generally use to prepare for a running race.  These pictures were taken by a friend and colleague of Melissa's. I think our expressions at the end very accurately portray the physical and mental state I was in throughout the second half of the race:
For full entertainment value, I would definitely recommend clicking on the pictures for a larger view.
Fighting Wallabies

Miles Flown (Melissa)

406,530

Times Served Sea Cucumber

4