One very adventurous couple we met in Singapore moved back to the US about a year ago and gave us a parting gift – their Lonely Planet guide to Sri Lanka.  They loved travelling there and the cover of the guide has a photo of an elephant on the beach.  Seemed enticing.  In Singapore, we get 2 days off for the Chinese New Year which equals a 4 day weekend – perfect opportunity to see what that little island off the coast of India is all about.  We flew to Colombo on Tiger Air and spent the first night there in the Galle Face Hotel, right on the Indian Ocean.  It's quite a historic place built in the 1800s – very colonial.  We booked the cheapest room online but when we arrived we were upgraded to a "suite."  Basically, the suite living room was at least the size of our entire Singapore apartment.  With a lot older furniture.  And a very nice view of the ocean!
| | |
| --- | --- |
| | |
The next morning we walked along the beach in front of the hotel for a bit and were met by friendly "workers at the Galle Face Hotel who had the day off and wanted to tell us about a festival going on at a nearby temple that we should check out because it's only free today but won't be tomorrow."  After the 1st guy gave us this pitch, which we nicely declined, we became more suspicious when a 2nd guy came up to us with the exact same story.  After we told him we weren't interested, Justin saw him jump in a tuk-tuk and leave for his next unsuspecting tourist.  Apparently this must be the latest scam in Colombo – a way to get tourists to give drivers money to take them to a festival that doesn't actually exist.  We heard from Justin's brother and his wife (Derek and Mitali) that when they were in Sri Lanka, the scam was to "go see the elephant parade."  So, elephant parade must have gone out and the temple festivals moved in!
Derek and Mitali gave us several recommendations about Sri Lanka from when they visited several years ago during Mitali's residency.  The Galle Face Hotel was one of them, and so we decided to recreate the Galle Face moment.
We found a driver (refer to Justin's driving commentary) and headed to our first stop, Hikkaduwa (the beach).  On our way we stopped at a sea turtle recue where they help 150 turtles hatch and escape safely to the sea every day.  We got to play with some of the day old turtles and meet some of the adults who live there as well.  And recreate another Mitali moment.
We stayed at the Chaaya Hikkaduwa which was in a good location and had beautiful views of the ocean from our room.  The beach itself at Hikkaduwa was disappointing – we tried to snorkel around for a bit but the large number of boats and small number of fish made it challenging.  So, the next day we went to Unawatuna Beach (awesome name, right?) which was much better.  We found a good PADI dive center and decided to go scuba diving.  We just did one dive but we saw a lobster, clown fish, nudi branch, lion fish and got to actually "herd" a huge school of fish which was really fun.  For dinner, we explored the local restaurants which had curries, fried rice and even some Western food.  Overall quite good and inexpensive.
Near Hikkaduwa is Galle, which has a former Portuguese fort.  It was raining when we went to visit so we didn't see too much, but it was a cute little place to walk around.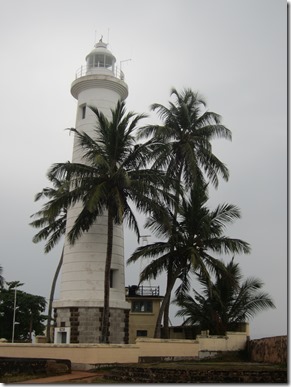 Fishing is a large industry (as you can imagine for an island) and Sri Lanka is famous for their "stilt fisherman."  We found some on our drive out of Hikkaduwa and they even let me give it a shot.  I didn't catch anything…..so I won't quit my day job.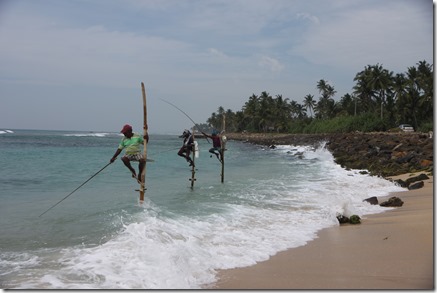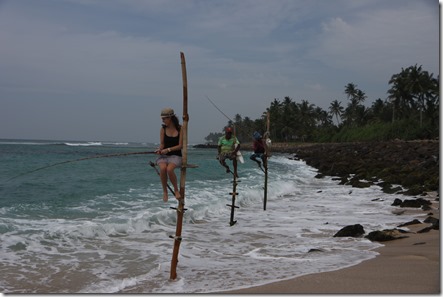 Fighting Wallabies

Miles Flown (Melissa)

406,530

Times Served Sea Cucumber

4