The festival of lights, known as Tihar or Dipawali, is a 5 day festival that happened to coincide with our stay in Nepal.  This particular festival involved the celebration of different animals – one per day.  We happened to be walking through the villages during the dog day and cow day!
The animals are adorned with flower garlands, blessed with red tika on their foreheads and given good meals.  From what we could tell, even the hundreds of dogs wandering the streets of Nepal were entitled to this treatment.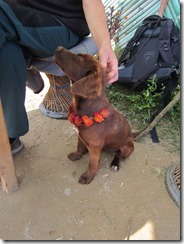 While eating breakfast in our last tea house, we had a perfect view of a local family blessing their cows.
Another Tihar tradition was for the villages to build giant swings out of bamboo and rope.  We came across many of these swings built all over the place with kids playing on them.  One of the young girls really wanted her photo taken – we both apparently like pink.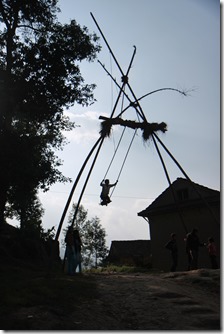 Marigolds were all over the Nepal countryside and during Tihar the families make garlands out of them, not only for the dogs and cows, but to decorate their houses.
At the end of the 3rd day of Tihar (and our last night in Kathmandu), all of the shops lit candles in the doorways while kids set off small firecrackers.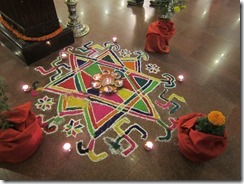 Fighting Wallabies

Miles Flown (Melissa)

406,530

Times Served Sea Cucumber

4