Justin and I have often tried to coordinate one of my work trips so that he could join for the beginning or end, but for 2 years it just didn't happen.  Many of my trips are planned or cancelled last minute (which makes Justin's airfare too expensive or risky), but last April we succeeded and he met up with me at the end of a trip to Kuala Lumpur, Malaysia.
We stayed at the Trader's Hotel right by the Petronas Towers with a direct view of them from our hotel – it was beautiful!  We spent most of Friday night just walking around the area and the mall at the base of the Towers.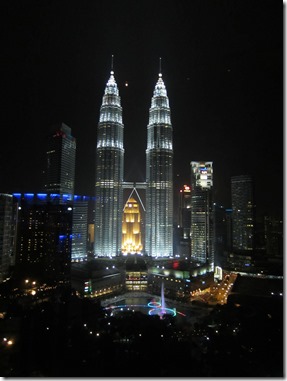 Saturday morning we ventured out to the Batu Caves, a Hindu shrine located just a little bit outside KL.  We took the subway there and it was a pretty short ride, from what I remember about 45 minutes.  We climbed the 276 steps to the top of the cave (darting from crazy monkeys that really, really think everyone must have bananas hidden on them somewhere) and walked around the shrine built inside the caves.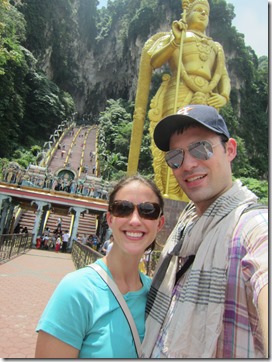 Next we went on a cultural tour of sorts of downtown KL.  This included Chinatown and Merdeka Sqaure, where the Sultan Abdul Samad Building is located as well as the "hash run" originator Royal Selangor Club.  I should note that it was extremely sunny and hot that day, so we took an abbreviated tour from what my guidebook recommended.  But we got the gist.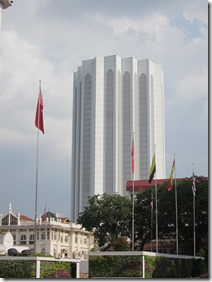 We walked around a few more hours through markets and various neighborhoods.  Many people say that KL reminds them of Singapore 20 years ago and there were many similarities with the shop houses and food.
For us, a weekend was plenty of time to see the sights that we wanted.  We actually even had time to watch a movie ($10 for 2 tickets, 2 popcorns and 2 drinks – what a bargain!).  We had a great time in KL and will try to tag on weekend visits to more work trips in the future.
PS. One interesting thing to note: when flying to KL from Singapore (a very short 40 minute flight) you can actually see all of Singapore out of your plane window.  See that island?  That's it.  All of it.  Pretty amazing, eh?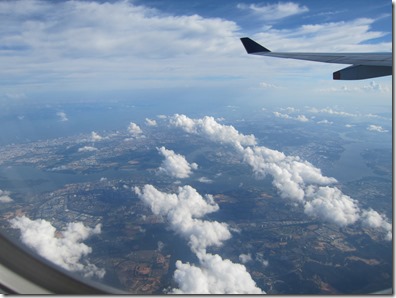 Fighting Wallabies

Miles Flown (Melissa)

406,530

Times Served Sea Cucumber

4