At the end of a work trip to Chengdu, my coworkers took me to the Chengdu Research Base of Giant Panda Breeding.  They have an immense property with various habitats for pandas at different ages including a nursery for both giant pandas and red pandas.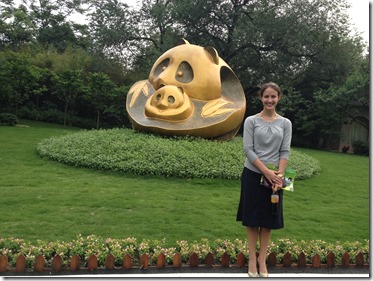 First of all, the center is beautiful – it's like you're walking through a well manicured nature park.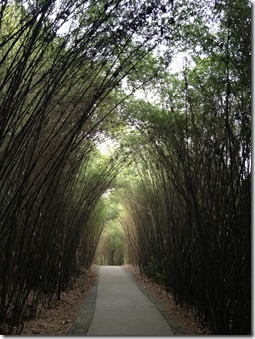 The pandas have spacious outdoor living areas and air conditioned habitats for the warmer months.  I happened to be there during some hotter weather in May, so the pandas were inside.  I would like to go back in the cooler months so there isn't glass in between me and the pandas, but it was still good viewing indoors.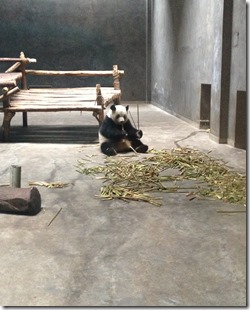 I probably saw over 20 giant pandas, including some younger teenagers.  They didn't have any newborns at that time.  My quick analysis of the life of a panda is it pretty much revolves around chewing on bamboo and sleeping.  Not very strenuous, you could say.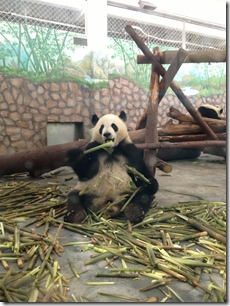 My favorite part was actually seeing the red pandas.  They are so cool looking – like a larger, more cuddly fox.  They must be more hard core than the giant pandas as they stayed outside so we could see them a bit better.  In fact, they got very up close and personal as we discovered numerous holes in the chain link fence, so the pandas were pretty much free to wander as they liked.
One started walking right towards me which was a little unnerving, but it's obvious they are used to people and frankly could care less about them.  Justin and I are hoping that red pandas become the next domesticated animal – when that happens, sign us up.
Fighting Wallabies

Miles Flown (Melissa)

406,530

Times Served Sea Cucumber

4