Like our trip last year to Australia, Justin and I were probably most excited about seeing the wildlife of Sri Lanka during our visit last February.  While in Hikkadua, we went on a whale watching cruise.  The actual pursuit was mildly entertaining in itself as all of these boats would chill out in the ocean until one of them spotted a whale tail or blowhole.  Then suddenly that boat would lurch into action, full speed ahead.  The other boats (most likely not seeing anything) would immediate spring into action following the first boat blindly, hoping to see something in return.  In the end, it was pretty successful as we saw about 10 whales in the course of the 4 hour journey.
It was incredible how huge whales actually are – even though we could only see a little bit of their body, you could just imagine.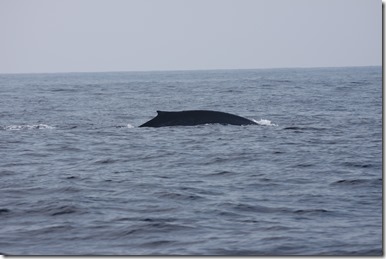 But the absolute best part of the whale watching cruise (and the entire Sri Lanka trip for that matter) came as we were heading back to shore.  In the distance ahead, I could see some choppiness in the water and I wondered what it was.  Someone mentioned it could be dolphins, and I thought that it would be fun to see 1 or 2 dolphins.  As we got closer, you could start to see what we were dealing with – it was an entire dolphin pod!  There were over 150 dolphins!!  They were swimming all around our boat, literally doing flips and tricks.  It was like being at the best Sea World show ever.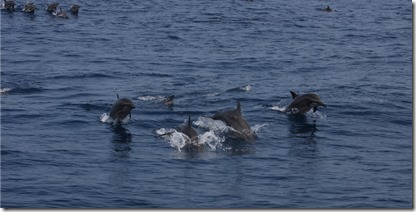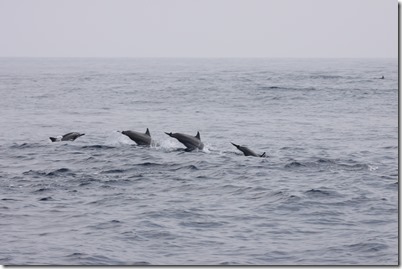 It's small in the distance, but you can see the one dolphin doing a trick.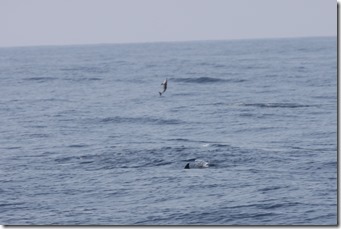 They were literally swimming under and all around our boat for about 15 minutes.  Awesome.
Next we went to Yala National Park, in the south western part of Sri Lanka.  It's a wildlife area most well-known for it's leopard population, but has many elephants as well.  It's really in the middle of nowhere and to tour the park, you basically go on safari in a very powerful jeep.
We stayed at the Chaaya hotel near the park which is really the only option close to the entrance.  It was quite nice as you have your own hut and they do warn you to walk with a guide around the hotel at night as wild boar and elephants roam around.  The hotel arranged our jeep for us and we did two safari tours – one in the afternoon (around 3pm) and one in the morning (around 6am) to try and spot as many animals as possible!  Riding around in the jeep was really fun and definitely an adventure as it bounded down the dirt/mud roads in search of leopards.
| | |
| --- | --- |
| | |
At one point our guide received an update from another guide about the location of a sunning leopard and so we took off to find it.  During this portion our driver showed his true skills, passing other jeeps and going through many interesting shortcuts – seriously, he missed his calling as an F1 driver.  Unfortunately, we arrived at the leopard spot still too late, missing the close-up encounter by about 1 minute.  We did finally see 1 leopard, in the way way way distance. See him below?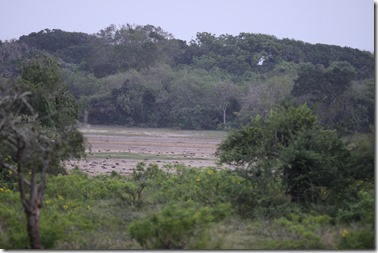 Below is a zoomed in look on the same photo – thankfully we had some binoculars so we did get at least a little better view.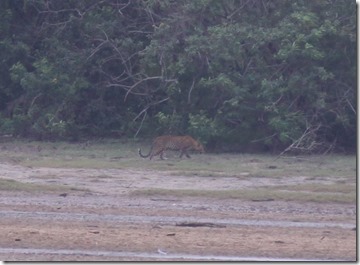 While the leopard viewing was a little disappointing, the other animals came through for us.  We saw a bunch of elephants, including some babies throughout the park.
One of the coolest finds was this sloth bear climbing a nearby mountain.
Also, near the leopard sighting we found a fox in the distance.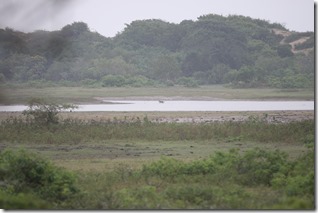 Yala is also quite famous for its variety of birds and we were surprised how many peacocks there were everywhere!  We must have seen 12-15 during our two tours.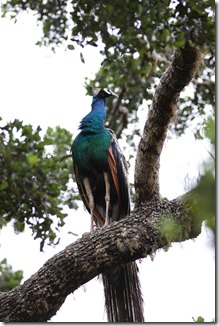 And everybody loves a water buffalo. Or 5.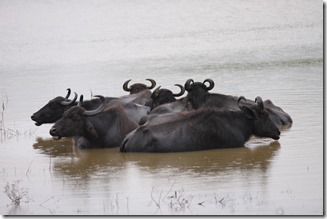 And we saw wild boar, monkeys, a bunch of deer and finished the 2nd tour with some crocodiles.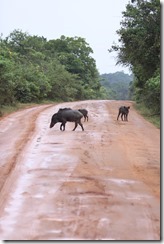 I highly recommend a visit to Yala National Park if you're in Sri Lanka, especially now before the tourism picks up too much more as the park is already rather crowded with jeeps.  In addition to the animals, the scenery itself is quite beautiful and worth a visit.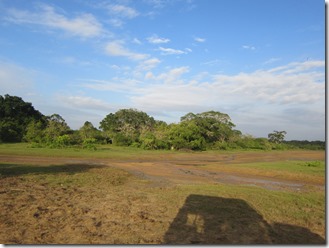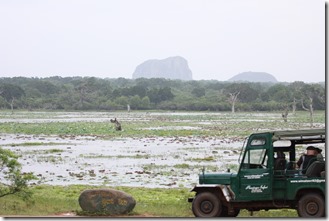 Fighting Wallabies

Miles Flown (Melissa)

406,530

Times Served Sea Cucumber

4